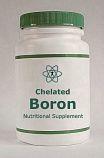 Boron (B) has not been officially designated to be essential to human health at this time, however boron is an essential macronutrient for higher plant forms, and there are some indications that it could be classified as essential for humans in the future.
A number of research studies have shown that boron increases cognitive performance,[1] and that it can be an effective addition in the treatment of osteoporosis by promoting healthy bone metabolism, including efficient use of calcium and magnesium, and proper function of the endocrine system (ovaries, testes and adrenals). There is also some evidence that parts of the world with low levels of boron in the soil have a higher percentage of people suffering from arthritis in comparison to regions with higher soil levels of boron.
Some researchers believe boron to have estrogen-like properties (by raising plasma estradiol), while other researchers claim boron to have testosterone-like properties, referring to reports of hair loss in males after its supplementation. While most studies present evidence of both, boron does not seem to offer any benefits with menopausal symptoms, so it appears that the estrogen / testosterone ratio would be in favor of a testosterone dominance, which is also supported by the fact that boron lowers manganese, which does have proven estrogen-like attributes.
With boron now being found in many multi-mineral formulations, some individuals may feel that the hormonal effect (i.e. hair loss) is a concern, so they should look for a brand that contains a lesser amount of boron, or none at all.
The trials Dr. Ronald Roth had run with boron showed that it increases calcium & magnesium retention, but at the expense of lowering manganese, which is one of the co-factors that helps calcium uptake (high manganese can result in calcium and magnesium loss). So realistically, the only circumstances which would justify the use of boron for osteoporosis - or any other condition - are situations where patients suffer from congestive liver disease, resulting in high manganese levels, which would subsequently cause calcium (and magnesium) depletion.