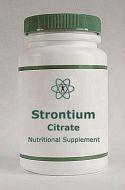 Strontium (Sr) has not been officially designated to be essential for humans at this time, and to date, there is no indication or medical evidence for its essentiality to human health.
However, in the form of Strontium Ranelate, strontium has been demonstrated to increase bone mass through its stimulatory effect of osteoblasts (which increases bone formation), and its inhibitory effect of osteoclasts (which cause bone loss through bone resorption).
At the recommended daily dosage of 2,000 mg in granules form, Protelos (strontium ranelate), has shown a significant reduction of vertebral fractures and hip fractures [1] in clinical trials, with decreased back pain and decreased body height loss compared to the placebo group. At this time, it is primarily recommended for postmenopausal women, but not pregnant, or breast-feeding females.
The action of strontium is closely related to that of calcium, although retention of strontium varies inversely with calcium intake. Supplementing larger amounts of strontium increases calcium, but not magnesium retention, and it has the potential to lower stomach acid levels, insulin, WBC, germanium, fluoride, bismuth, and silicon. These effects should be kept in mind when considering strontium in the treatment of osteoporosis.
In order to help increase Bone Mineral Density (BMD), over 1,000 mg of strontium has to be ingested daily (versus a few mg / day obtained through normal food intake), and while those amounts are well tolerated by some patients, various medical problems may be experienced by other patients, which include tooth decay, nausea, abdominal spasms, headaches, memory problems, skin irritation, swollen glands, fainting, difficulty breathing, rickets, diarrhea, pulmonary embolism, headaches, or seizures.
Additional caution is required by those with kidney problems, have a history of venous blood clots, or have an intolerance to aspartame, which is found in Protelos. Since calcium inhibits strontium absorption, calcium supplements, antacid remedies - and food in general - should not be taken within 2 hours before, and 2 hours after taking Protelos.
Similarly to iodine pills being somewhat protective in case of a nuclear accident, taking small amounts of the (non-radioactive) trace mineral strontium may offer the same protection when being exposed to the radioactive form of strontium. Some toothpastes that are marketed for "Sensitive Teeth" [2] contain strontium chloride as part of their formulation.