Phytosterols: Health Benefits of Sterols, Sterolins and Beta-Sitosterol?
| Cellular Nutrition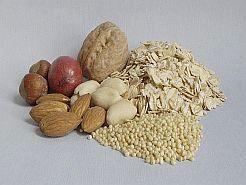 Phytosterols are plant fats similar in structure as the animal fat cholesterol, except they have an extra ethyl group on the side chain. All plants, including fruits, vegetables, grains, spices, seeds and nuts contain these sterol / sterolin compounds, with some of the most commonly found phytosterols being beta-sitosterol (BSS), stigmasterol, and campesterol. Plant oils are a particularly rich source of phytosterols, however all sources are thought to be effective in the treatment or prevention of high cholesterol, or hypercholesterolemia.
The interest in the effects of phytosterols apparently started with Roelof Wilke Liebenburg from South Africa, who witnessed how one of his relatives with inoperable prostate cancer was supposedly cured by a neighbor using a traditional folk remedy.[1] As a result, Mr. Liebenburg started researching the plant components that were used to treat his relative's cancer, and eventually a small study was done in Germany with patients that suffered from a variety of prostate problems. Following the successful treatments of some cases with Benign Prostatic Hypertrophy, or BPH (which is a non-cancerous enlargement of the prostate), by these plant extracts, a patented remedy of a special combination of sterols and sterolins was formulated in 1974.
This product line was initially approved for BPH, however once it became available over-the-counter, it was touted as a most promising immune system cure, with claims of asthma, diabetes, several types of cancers, herpes, lupus, rheumatoid arthritis, allergies, psoriasis, etc..., benefiting from plant sterol supplements.
Apparently, research is also under way to confirm positive effects of phytosterols and sterolins on sinusitis, HIV/Aids, fibromyalgia, tuberculosis, Hepatitis C, Chronic Fatigue Syndrome, and other infectious diseases, whereby beta- sitosterol in particular is said to modulate immune functions, inflammation, and pain levels through its effects on controlling the production of inflammatory cytokines.
Research has also shown that phytosterols such as beta-sitosterol may help normalize the function of natural killer cells and T-helper lymphocytes following stressful events. Any positive effects of phytosterols on human cancers though are still preliminary and unsubstantiated at this time.
While test tube and animal studies showed some positive results of dietary phytosterols being able to lower serum cholesterol levels and slow the growth and spread of cancer cells, a number of human studies showed good benefits in regard to alleviating the symptoms of Benign Prostatic Hypertrophy, and moderate effects on cholesterol management, which however did not translate into a reduction of cardiovascular disease.
Of course, it would have been much more interesting to see how a cholesterol-rich diet from animal sources (such as eggs), would have fared in comparison to a phytosterol-rich diet (from plant sources), in the same studies, instead of simply trying to compare a diet rich in phytosterols to a control diet, to which almost any diet can be made to appear superior.
In fact, research shows that LDL cholesterol, which contributes to atheromatous plaque formation, also contains plant sterols, and that a dietary increase in phytosterols also increases the plant sterol content in the plaque of arteries. In addition, when statins (cholesterol-lowering drugs) were used, the treatment was not only associated with increased ratios of the absorption of plant sterols in serum, but also in atherosclerotic plaque.
Dr. Ronald Roth followed the progress of a number of patients who had started using phytosterols for a variety of medical disorders that beta-sitosterol, stigmasterol, campesterol, or any number of other sterols or sterolins are supposed to be beneficial for, and at some point, Dr. Ronald Roth actually encouraged some patients to experiment with plant sterol supplements to help evaluate the effectiveness of phytosterols for their conditions. Dr. Ronald Roth also monitored his own chemistry while supplementing larger doses of sterols and sterolins myself in the hope of coming up with any specific positive or negative effects.
Over several years, there have been few changes observed with any number of medical conditions the products were used for, although one patient was able to control a long-term wheat allergy by supplementing one or two 127.5 mg phytosterol caps per day (which contained stigmasterol, beta-sitosterol, beta-sterolins, and campesterol), however she also had to add sufficient amounts of either lime juice, or glutamic acid tabs with every meal. Neither the stomach acid support, nor the phytosterols alone worked by themselves.
Since many (plant) foods already contain sufficient amounts of phytosterol compounds, additional intake of sterol & sterolin supplements seems to largely benefit those individuals who follow extreme dietary lifestyles, such as long-term junk diets, ongoing diets for weight control purposes, or restricted diets because of food allergies. Of course in the first two instances, following a healthier lifestyle would be the better option.
If for some reasons a proper diet cannot be followed, or bottled sterols and sterolins are too expensive, then medical conditions that have shown a positive response to phytosterol therapy (e.g. an enlarged prostate, or abnormal cholesterol levels), there are other supplements with similar effectiveness, such as Saw Palmetto, Milk Thistle, or Zinc for an enlarged prostate, - and Fish oils / Omega-types of EFAs to improve someone's cholesterol and triglyceride profiles.