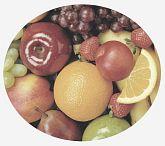 Bioflavonoids (or Flavonoids) provide much of the flavor and color in fruits & vegetables, as well as berries and flowers. Over five thousand flavonoids have been identified, which comprise the most abundant group of plant Polyphenols next to Stilbenes (resveratrol, pinosylvin, isorhapontin), Lignans (nuts, seeds, and whole grain cereal sources), and Phenolic acids (found in a variety of foods).
As a group with other polyphenols, flavonoids - and Bioflavonoid Complex Supplements - have been found to reduce the development of cardiovascular disease,[1] cancer, osteoporosis, and provide many other health benefits as a result of their antibacterial, antiviral, anti-inflammatory, antioxidant, and at times anti-allergenic properties.
Following is a list of Bioflavonoids and their sources:
Rutin and Hesperidin are essential bioflavonoids and accessory nutrients to form a Vitamin C Complex (previously known as Vitamin P factor). They function synergistically with Vitamin C in regard to maintaining healthy capillaries, to help form collagen in connective tissue, to help heal wounds, and to support a healthy immune system.
Rutin and/or hesperidin, when low, frequently result in predictable, and even side-specific medical problems that include a greater risk for vascular degeneration, bruising / capillary fragility, nose bleeds, varicose veins, periodontal bleeding, hemorrhoids and aneurism, with few individuals exhibiting optimal levels, despite mega-supplementation. One reason is the chemical interaction of other nutrients with flavonoids which can have a synergistic, or inhibiting effect. Various drugs also interact with bioflavonoids and affect their efficacy.
Copper is the most common and potent inhibitor of Hesperidin and Vitamin C, being the reason why high levels of copper create a greater risk for vascular degeneration, which in turn requires greater intake of sulfur, Vitamin C, chromium, or molybdenum to lower copper or make it more bioavailable, otherwise hesperidin will not go up, no matter how much is supplemented. (see also "Vitamin C Supplementation").
Abnormal liver functions, triggered by drugs, hormones - particularly elevated estrogen - alcohol, etc., or the structural changes experienced during pregnancy, as well as lack of exercise and excessive amounts of time spent in a sitting position can be equally responsible to promote vascular degeneration.
Hesperidin, like copper, has a right-sided cell receptor, so medical problems associated with its deficiency, and/or with copper excesses, are invariably right-sided as well. It is not unusual to see hemorrhoids, varicose veins, or other forms of vascular degeneration being noticeably worse on one side. Rutin is inhibited mostly by chromium, however with chromium levels being on average not as high as copper levels, rutin levels are as a result frequently higher than hesperidin levels, as long as dietary intake of rutin and hesperidin are similar.

Vanadium and selenium support rutin uptake, and molybdenum and sulfur support hesperidin uptake. Rutin + hesperidin are associated the same way as calcium + magnesium, in that taking only the one can over time cause a deficiency of the other. For instance, the need to supplement rutin alone (without hesperidin) can only be justified when there is either a notable deficiency ratio-wise to hesperidin, when there is a significant vascular problem that is confined to the left side only, or when higher amounts of rutin are therapeutically used for its potent antithrombotic activity.
Measuring flavonoids levels will help establish whether they, or other aspects, such as impaired liver functions or drugs are causative factors with vascular degeneration. Low to moderate intake of alcohol, blood thinning medications, or blood-thinning supplements & spices (Vitamin E, ginkgo, fish oils, garlic...) favorably enhance the activity of bioflavonoids, however their excessive intake not only compromises Vitamin K, but causes a noticeable drop with rutin and hesperidin levels as well.
Although green, leafy vegetables contain significant amounts of Vitamin K, the high oxalic acid content in Swiss chard, spinach, beets / beet greens, parsley, and rhubarb not only reduces the benefits of flavonoids, but also decreases calcium absorption by forming insoluble calcium oxalate salts, and as a result promotes vascular degeneration and increases the risk of bleeding in prone individuals.
Citrus Bioflavonoid Complex is the most commonly supplemented form of flavonoids, with small amounts being frequently added to some Vitamin C supplements. Unless there is a specific intolerance or allergy to citrus (it worsens eczema in some individuals), there are no adverse or overdose reactions known, even when higher amounts are supplemented. As a result, supplements containing rutin and hesperidin are considered safe during pregnancy or nursing, however the safety of other flavonoids such as quercetin, grape seed extract, or other proanthocyanins has not been established, so their supplemental intake during pregnancy is not recommended.
Since citrus bioflavonoid tablets are usually quite large, brands should be chosen that either supply capsules, caplets, or oval shaped tablets, for easier swallowing.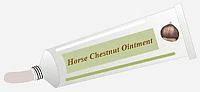 Horse Chestnuts contain flavonoids, sterols, and tannins. Studies have identified a saponin known as Aescin as the active constituent in horse chestnut extracts, which has been found effective in the treatment of chronic venous insufficiency, varicose veins and edema, and can be applied topically or internally. Extracts of the seeds, leaves and bark of the horse chestnut tree (aesculus hippocastanum) have been traditionally used in Europe for vascular degeneration, hemorrhoids, cough, rheumatism, phlebitis, water retention, skin problems and other ailments.
People with kidney or liver conditions should avoid horse chestnuts or any horse chestnut extracts, as the aescin may worsen their functions. Reactions such as nausea, stomach upsets, and itching are another possibility in people sensitive to horse chestnuts.
Isoflavones from soy products (genistein, daidzein, glycitein), are another class of flavonoids that function as antioxidants, and in addition possess phytoestrogenic properties that can be effective for menopausal symptoms and to promote bone density in postmenopausal women. They may also be beneficial in the treatment and prevention of cardiovascular disease (inhibition of lipoprotein oxidation, thrombin formation and platelet activation), and cancer (inhibition of angiogenesis, and tyrosine kinase activity - an enzyme that promotes cancer growth), although there are conflicting opinions on the tumor-protective benefits in light of new evidence of a possible pro-tumor effect following high soy intake. Isoflavones are mostly found in soybeans, garbanzo beans, chick peas, red clover and legumes.
Cocoa is a rich source of catechins, which are polyphenols of the flavanol group, and which are believed to protect against heart disease, cancer, and various other medical conditions. While health benefits apply to some isolated compounds in cocoa - as a whole - they do not apply to processed cocoa products such as Chocolate any longer because of other less desirable ingredients offsetting these health benefits.
Theobromine, found in chocolate, can be toxic or even lethal to dogs, cats, horses, and many other animals. In addition, cocoa products contain a high level of copper, which - with few exceptions - is already too high in many individuals, so consuming a lot of chocolate aggravates many high copper-related medical conditions, or creates new ones. See "Chocolate" for details on some of the positive and negative health effects of chocolate.
Quercetin (quercitin, quercetrin) is chemically related to a class of flavonoids called (pro)anthocyanins. Early research on quercetin suggested that ingesting higher amounts may induce cancer, after it failed a standard - but somewhat controversial laboratory test called the Ames Test. This test supposedly identifies chemicals that might be carcinogenic. Subsequent studies however disputed those earlier findings and attributed cancer-protective or cancer-fighting properties to quercetin instead. In addition, quercetin has been found to be an effective hyperthermia sensitizer, making it a potential adjunct therapeutic agent in the treatment of various cancers [2] that are sensitive to heat stress (colon adenocarcinoma, prostate, ovarian, uterine, or cervical cancer, leukemia, melanoma, and others).
However, Dr. Ronald Roth had seen a few patients who developed cancerous tumors right after supplementing quercetin - which proves that positive outcomes in experimental studies are not necessarily reflected when applied in the "Real World." At the same time, patient feedback on the touted anti-allergenic and anti-inflammatory aspects of quercetin has not been all that favorable either, so while this is not intended to discourage anyone from using it for a specific condition (particularly when it was found beneficial), quercetin nevertheless fits the "Caveat Emptor" category.
A number of research studies have come to the final conclusion that low concentrations of flavonoids are protective in rat H4IIE cells, while high concentrations apparently cause DNA damage and cell apoptosis.
Quercetin is not the first to be listed among naturally occurring carcinogens and mutagens found in foods and beverages. Many phytochemicals contained in common fruits, vegetables, spices, grains, seeds, coffee, tea, nuts, mushrooms, and herbs are rodent carcinogens, while for instance Psoralens (found in parsnips, celery and parsley), are considered to be human carcinogens, as is acrylamide, contained in crisp breads or rolls, which is also a neurotoxin.
At the same time, the much touted antioxidant Resveratrol significantly raises plasma homocysteine levels [3] following long-term intake, the SRT501 resveratrol formulation may induce nephrotoxicity (kidney damage),[4] and ingesting large amounts of Grape Seed Extract has shown liver toxicity in some animal studies...
Nevertheless, test tube and animal studies - where many times astronomical amounts of food fractions are used - have generally little relevance to normal human consumption of the same types of foods, but they make great headlines, or they may assure next year's research grant for an otherwise starving research team.